Liminal x Writers SA Editorial Mentorships
Liminal x Writers SA Editorial Mentorships 2022
Submission period: 1 September–1 October, 2021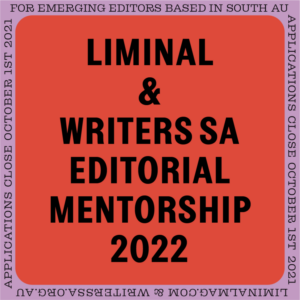 Liminal x Writers SA Editorial Mentorship
Call For Emerging Editors
Mentored by Cher Tan & Elizabeth Flux
The Liminal x Writers SA Editorial Mentorship invites emerging Asian-Australian editors based in South Australia to apply for an editorial mentorship. The mentorship will be conducted online, and involve working closely with Cher Tan (non-fiction) and Elizabeth Flux (fiction) to edit the Liminal x Writers SA series. Each selected mentee will learn how to edit and shape pieces for digital publication, as well as receive feedback and guidance throughout the entire editorial process.
Each emerging editor will be paid a stipend of $1600, which will support the upskilling and development of an emerging Asian-Australian editor based in South Australia.
Eligibility criteria:
Applicants must live in South Australia and identify as Asian-Australian.
Applicants must be an early-career editor. There is no age requirement.
If selected, you will be required to:
Attend 6 one-hour online meetings once a month, between February and June 2022, to meet with the editor you are working with, and to discuss the editorial process
Co-edit 8 pieces in your preferred genre (fiction or non-fiction) alongside the editor you are assigned
Attend the chapbook launch in Adelaide in Oct 2022
You will receive:
One-on-one training with industry professionals, with the opportunity to develop further editorial skills
Hands-on editing experience over a 6-month period, and feedback throughout the editorial process
Skills on how to edit in your preferred genre and shape a piece for publication
A byline in the chapbook, as well as a formal letter of recommendation for future editing endeavours
A stipend of $1600 for your work
Timeline:
Application deadline: October 1 2021
Mentees selected: November 2021
Mentorship program begins: February 2022
Mentorship program ends: June 2022